About The National Radon Defense Network
in Quad Cities, Peoria IL & Cedar Rapids IA Areas
Illinois and Iowa's reliable source for radon mitigation & testing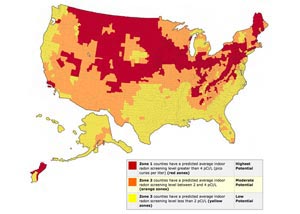 Where is radon located?
Radon is a colorless and odorless naturally occurring gas that is found all over the world. In the United States, the northern regions of the country are typically at highest risk, but no area of the country is radon-free.
The National Radon Defense (NRD) is your national network of radon mitigation specialists, serving across the United States. The NRD's network of leading radon professionals strives to provide local customers the best value in radon measurement and mitigation services through extensive on-going training and industry standards.
Collectively, the companies within the radon network are the world's most trusted source of radon measurement and mitigation services. Our mission for radon defense is to uphold the standards, professional qualifications, and best practices that are characteristic of an effective radon mitigation service company.
Does your home have radon?
The radioactive element radon is a cancer-causing gas that is unable to detect with the human senses. Radon is especially dangerous when high levels are located within a closed space, such as a home. It is only in these situations where radon concentrations can build up to high enough levels to become a serious lung cancer risk to your health.
We offer our professional radon testing services and solutions to help identify and control dangerous levels of radon in your Illinois and Iowa home.
MidAmerica Basement Systems is your neighborhood National Radon Defense Dealer for the Illinois and Iowa area, including Davenport, Peoria, Waterloo, Iowa City, Iowa City, Normal, Rock Island, Dubuque, Moline, East Peoria, Clinton, and cities nearby.
Don't risk breathing in unhealthy amounts of radon, contact us for a radon test or mitigation quote by phone or e-mail today!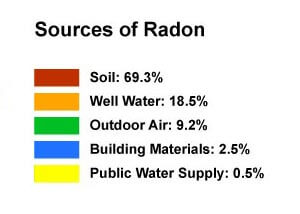 Where does radon come from?
Radon gas is a byproduct that is released into the atmosphere from the decaying process of uranium-rich soil and rocks.
Radon sources are everywhere and can be located all throughout the U.S. Radon sources are found directly in the earth, as well as in well water with most danger coming from enclosed spaces such as basements and crawl spaces.
Illinois and Iowa's trustworthy radon company
MidAmerica Basement Systems is part of the National Radon Defense network which requires each member to be professionally licensed within each respective state to perform radon-related services and solutions.
Each technician within the NRD network goes through an extensive training process to ensure your home receives the best practices of radon mitigation systems. The purpose of these mitigation systems is designed to pull radon from outside and inside the home, expelling it safely away from the home.
NRD members receive the following:
Professional training at our headquarters
Access to our proven production systems
Technical support from our in-house experts
Industry-proven products & practices
... and much more!
To address a radon problem in your home, the Environmental Protection Agency (EPA) recommends choosing a qualified radon mitigation contractor that is licensed, certified, or registered with the state. NRD Members are required to meet all of these industry standards and MidAmerica Basement Systems is your certified radon mitigation in Illinois and Iowa.
Why controlling radon in Illinois and Iowa is important?
Radon exposure is the #2 cause of lung cancer in the United States -- second only to smoking. To date, estimates show that 15,000-22,000 lung cancer deaths occur in the USA annually. Smokers face an incredible health risk with both tobacco and radon-related lung-cancer exposure.
Symptoms of radon poisoning only show up with the onset of lung cancer including a persistent cough, coughing up of blood, difficulty breathing, chest pains, hoarseness, and recurring respiratory infections such as pneumonia or bronchitis. That's why it's important to test your home for dangerous levels of radon and also your mitigation systems to make sure you're living safely and healthy.
We provide Free Estimates for installations of radon mitigation systems
Despite the danger that radon presents, many homeowners have not yet had their home tested for radon. Checking radon levels is easy and affordable, and should be done in every home.
If you live in the Quad Cities area, MidAmerica Basement Systems is the expert you're looking for. Within the National Radon Defense network, our company serves the Cedar Rapids, Peoria, Waterloo, Davenport area, as well as Iowa City, Normal, Rock Island, Dubuque, Moline, East Peoria, Clinton and many nearby cities.
Contact us today for a free written radon mitigation system installation quote to make sure your home is a healthy radon-free zone. Included in our Free Estimate is an on-site inspection, professional consultation, and a customized cost quote.
Looking for a price? Get a no cost, no obligation free estimate.