Foundation Repair in Quad Cities
If you have cracks in your walls, floor or ceiling - we can help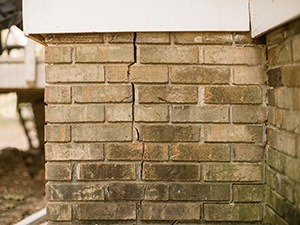 Solutions for every problem. If your foundation is cracked, buckling, or has other damage, our experts can restore your home to safe, functional condition.
Have you noticed cracks in your foundation walls, bowing walls, or any other signs of potential foundation disrepair? Your home's foundation is a crucial part of your home's security, so getting problems solved quickly is key. With 25 years of experience in the foundation industry, MidAmerica Basement Systems is uniquely qualified to help.
All of our patented foundation repair solutions are custom designed for your home. We have been recognized by Foundation Supportworks for our use of their products and techniques, and we have won awards for our skills in installing PowerBrace™ Systems and CarbonArmor® products which greatly benefit your Quad Cities home.
If you're ready to get started on foundation repair solutions, call in the experts at MidAmerica Basement Systems for a free inspection and estimate!
Common foundation problem signs

Click on the images to learn more about the cause of your foundation issue and our solutions.


Bowing Walls

Settlement Sinking

Sagging Crawl Space

Wall Cracks

Floor Cracks

Uneven Floors

Foundation Heave

Sticking Windows And Doors
View More Foundation Problems >>
Before and After
Before

After

Bowing walls can cause foundation cracks and shifts, weakening the support to the rest of your home. GeoLock Wall Anchors from MidAmerica Basement Systems help stop the wall(s) from worsening, and provide the option of straightening your foundation walls back to their original state. Rather the foundation wall is leaning or sliding in at the base of the wall, the GeoLock system secures a strong hold in the ground creating the pull on the wall, stopping the inward bow, while potentially straightening it out. The sleek design of the system prevents it from interfering with the rest of your home.

Before

After

You can see here that our crew dug around the home to prep for pier installation and then installed our Push Pier system to correct this home's foundation settlement. They then replaced the the earth around the home.

Before

After

Washburn, IL homeowners recognized a bowing a wall in their basement and had a design specialist, Dan Garner, come to their home to take a look. Soon, foreman Mike Clementz was installing a new PowerBrace system to stabilize the wall, and offer the homeowners peace of mind.

Before

After

Craig of Morton, IL met with design specialist Dan Garner from MidAmerica Basement Systems after he called the company with concerns about his bowing walls. Dan helped Craig determine the best solution for his problem. Dan suggested CarbonArmor, a stabilizing product made of carbon fiber. Craig's wall is now stable, so he's resting easy!

Before

After

The homeowners of this basement in Morton were troubled by the integrity of their foundation walls. The team permanently stabilized them with a Wall Anchor system and now the homeowners have stable and safe walls!

Before

After

Over time, the pressure of the ground on your home's foundation can cause the walls to bow. A CarbonArmor system from MidAmerica Basement Systems can permanently fix the issue. CarbonArmor strips are 10 times stronger than steel and offer the solution to stop walls from bowing. The flexible carbon fiber system is strategically placed along the wall and uses the wooden floor joist system to prevent the wall from bowing inward and stopping the home from tilting away from the foundation.

Before

After

The homeowner of this basement in Peoria reached out to the MidAmerica Basement Systems in regards to bowing walls in his older basement. The team installed Geo-Lock wall anchors to secure the walls and straighten them over time. The homeowner is thrilled to have a safe basement again!

Before

After

The owner of this Peoria residence was troubled by their bowing basements walls until they contacted the MidAmerica Basement Systems professionals. The team permanently stabilized the foundation walls by installing the patented PowerBrace system. The owner is now free from bowing wall troubles!

Before

After

These bowing walls looked to be on the verge of collapsing in, so the homeowners asked for some help from MidAmerica Basement Systems. Our production team stabilized the walls by installing PowerBraces, which permanently stop the inward movement of the wall and can help straighten the wall over time.

Before

After

Returning customer Jamie had a waterproofing system installed his basement. He recently was noticing his foundation walls beginning to crack and bow. During inspection, it was proposed having a GeoLock Wall Anchor System installed to the cracked and bowing wall. The anchor system permanently stops the wall from bowing, and over time, can potentially be straightened back to the original state.
Nationally recognized solutions from a local company
No two foundation problems are alike. We use only warrantied foundation repair products that have proven to be effective for repairing issues like cracks, sinking, bowing walls, and more. We ensure the best solution for your home's specific needs. Mudjacking, stabilizing concrete, wall stabilization, and push piers are just a few of our common solutions.

We're here to help you find the best home foundation solution
You don't have to live with stressful foundation problems. MidAmerica Basement Systems will conduct a thorough inspection of your home, and we'll let you know exactly what steps need to be taken to permanently stabilize your foundation -- restoring value to your greatest investment. Contact us today to request your free foundation repair estimate in Normal, Iowa City, Dubuque, Rock Island, Clinton, Moline, East Peoria or nearby.
Looking for a price? Get a no cost, no obligation free estimate.