Expert basement waterproofing in Peoria, IL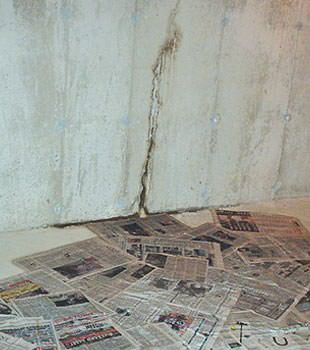 Don't let your basement turn into an unsightly, water-ridden space.
With a population of around 115,000, Peoria is the largest city along the Illinois River. Because of its humid continental climate, Peoria experiences snowy winters, heavy rain in the spring, and humidity and more rain in the summer. These weather conditions create plenty of opportunities for water to infiltrate your property's soil and cause basement or crawl space water problems.
In business since 1990, MidAmerica Basement Systems is an experienced basement waterproofing and foundation repair company serving homeowners in and around Peoria. On top of providing exceptional services to restore wet basements and crawl spaces, one of our goals is to educate homeowners about their basements. Knowing the potential causes and signs of leaks or floods can help prevent future problems and let you know when it's time to call in a professional.
Signs of a basement waterproofing problem
Wet or damp basement floor
Leaking or damp basement walls
Pooling or standing water
Crystaline deposit on concrete surfaces
Musty odors
Condensation
Sump pump issues
Leaky basement windows
As a homeowner, you might think that a little water in your basement is nothing compared to all of the other things you have to worry about. But waterproofing your basement properly is necessary to protect your home from mold growth and rot and to give you dry, usable, valuable space in your basement. MidAmerica Basement Systems can install a warrantied, patented interior drainage system attached to a high-volume sump pump. Any water that enters your basement or crawl space is pumped safely away from the home.
Let us worry about basement or crawl space water problems so you don't have to. If you've noticed any signs of a wet basement, schedule a free estimate with MidAmerica Basement Systems today!
Foundation repair solutions and concrete lifting for every home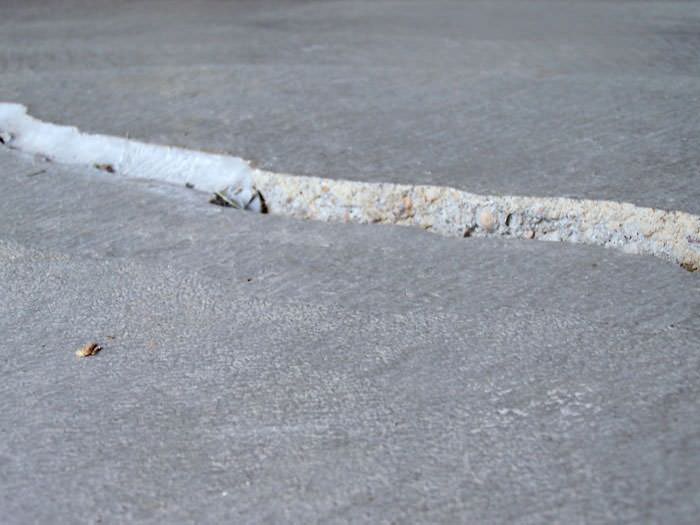 Large floor cracks can be characteristic of foundation or concrete slab settlement.
If you're planning to sell your Peoria home anytime in the future, ensuring the stability of your foundation is key – foundation issues will severely drive down the value of your home, and no potential buyer wants to inherit these problems. MidAmerica Basement Systems's foundation repair solutions will improve the safety and appearance of your home's foundation by anchoring it to stable soil and removing unsightly cracks!
There are many types and causes of foundation issues, and only a professional will be able to advise you about yours. For foundations that are suffering from settlement we provide solutions to resolve sagging floors, bowing walls, large cracks, and sticking windows and doors. We can fix these or any other problems with permanent solutions including foundation piers, wall braces and support jacks. These foundation products come with a written warranty.
We can also assist with concrete lifting and leveling needs using the patented PolyLevel technique. PolyLevel is a foam that expands after it is injected through small holes into the ground beneath your concrete slab. After just 15 minutes, the concrete that makes up your driveway or sidewalk will be restored to its original, level position and will be safe to use!
Radon mitigation in Peoria, IL
Radon gas is not as obvious of a problem as a wet basement or settling foundation, but it can be just as hazardous – or even more so. As the leading cause of lung cancer amongst non-smokers, radon is the cause of thousands of deaths in the US every year. MidAmerica Basement Systems can keep your family safe with a radon mitigation system that will remove radon from your home and keep it from re-entering. For all of your home's basement waterproofing, foundation repair, and radon needs, schedule a free estimate with MidAmerica Basement Systems in Peoria today!
Basement Finishing & Remodeling in Peoria, IL
Waterproofing your basement prevents outside water from coming in but what if a pipe bursts or the water heater leaks inside the home. A newly finished basement done by your average contractor will mold and rot if there is an internal leak. You'll have to tear out your new basement! We fix this issue.
Our Products Include :


Waterproof, washable, insulated walls
Mold-Resistant, No-Sag suspended ceiling
Modular carpet, tile & faux wood flooring




Energy-efficient, double-paned basement windows
Attractive Sunhouse basement window wells
French, bifold, louvre & six-paneled steel doors
Unlike the average Peoria contractor we use completely inorganic, waterproof materials. Even if the basement floods your walls and floors will not be damaged by the water. These waterproof products are patented and are built to create an attractive finished basement that lasts a lifetime.
Serving the following Peoria, IL zip codes
61601, 61602, 61603, 61604, 61605, 61606, 61607, 61612, 61613, 61614, 61615, 61625, 61629, 61630, 61633, 61634, 61636, 61637, 61638, 61639, 61641, 61643, 61650, 61651, 61652, 61653, 61654, 61655, 61656