Cedar Rapids, IA Basement Waterproofing & Crawl Space Repair Experts
Even a small amount of water can damage your basement.
Home to about 127,000 and as the second biggest city in Iowa, Cedar Rapids is known as a cultural center of Eastern Iowa and is one of the safest cities to live in. Nicknamed the City of Five Seasons, Cedar Rapids also experiences heavier-than-average precipitation, severe thunderstorms, and has even been known to flood because of its position on the Cedar River. Homeowners in this city may have to contend with water in their basements and crawl spaces – which is why MidAmerica Basement Systems is here with the basement waterproofing services you need!
Do you have damp spots, pooling water, condensation, humidity, or musty odors in your basement or crawl space? We install invisible drain systems connected to a sump pump to safely drain away any water entering the basement as a proven basement waterproofing solution. The system has a lifetime dry-basement warranty to protect your home from flooding, heavy rain, and burst pipes. Along with the basement we also encapsulate and waterproof crawl spaces.
If you're concerned about water in your basement or crawl space, act now before structural problems develop or mold grows. In business since 1990, MidAmerica Basement Systems is a part of the Basement Systems dealer network and our proven, patented products will provide you with a long-lasting solution. Schedule a free estimate in Cedar Rapids today!
Leading Foundation Repair & Concrete Lifting in Cedar Rapids, IA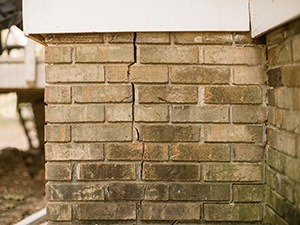 Bowing walls can create hazards for your home – let our foundation repair experts stop them!
MidAmerica Basement Systems also specializes in foundation repair for Cedar Rapids homeowners. Foundation problems might seem overwhelming at first, and there are many different types of issues. However, with the help of a professional, you can pinpoint exactly what is wrong with your home and discover the best solution. From foundation settlement to street creep or concrete slab settlement, we have the expertise to perform the right foundation repair for you.
Common signs of foundation problems like foundation settlement are:
Sagging floors and floor cracks
Wall cracks
Bowing walls
Sticking doors and windows
Tilting chimneys
The good news is that no matter which of these symptoms your home is experiencing, we have warrantied products from Foundation Supportworks which are specially designed for foundations. Wall braces, wall anchors, foundation piers, and PolyLevel are some of the products we can use to raise and stabilize your foundation or concrete slab. With our foundation repair and concrete lifting services, you can remove property hazards and restore value to your home!
Protect Your Home with Proven Cedar Rapids Radon Mitigation
In order to ensure the air in your home is safe for your family to breathe, MidAmerica Basement Systems offers radon testing and mitigation. Radon is undetectable and can affect different homes in different ways depending on soil profiles and home ventilation – so even if your neighbor does not have a radon problem, your home might still be at risk. As the second leading cause of lung cancer after smoking, radon gas is a hazard that should be taken seriously.
MidAmerica Basement Systems properly install a radon mitigation system that safely pumps the gas out and away from your home. Each system is customized to work with your property, because all homes have unique ventilation requirements. We will ensure that radon removed from your home will not be able to re-enter.
For all of your basement waterproofing, crawl space, foundation repair, and radon mitigation needs, MidAmerica Basement Systems has permanent solutions that will keep your family safe. We offer free estimates in Cedar Rapids and areas nearby – schedule yours today!
Basement Finishing & Remodeling in Cedar Rapids, IA
Waterproofing your basement prevents outside water from coming in but what if a pipe bursts or the water heater leaks inside the home. A newly finished basement done by your average contractor will mold and rot if there is an internal leak. You'll have to tear out your new basement! We fix this issue.
Our Products Include :


Waterproof, washable, insulated walls
Mold-Resistant, No-Sag suspended ceiling
Modular carpet, tile & faux wood flooring




Energy-efficient, double-paned basement windows
Attractive Sunhouse basement window wells
French, bifold, louvre & six-paneled steel doors
Unlike the average Cedar Rapids contractor we use completely inorganic, waterproof materials. Even if the basement floods your walls and floors will not be damaged by the water. These waterproof products are patented and are built to create an attractive finished basement that lasts a lifetime.
Serving the following Cedar Rapids, IA zip codes
52401, 52402, 52403, 52404, 52405, 52406, 52407, 52408, 52409, 52410, 52411, 52497, 52498, 52499