Proven Basement Waterproofing & Crawl Space Encapsulation in Bettendorf, IA
Water coming through basement windows can stain concrete, damage drywall, and soak insulation.
Bettendorf, IA is one of the Quad Cities with a population of around 34,000. Because this city has precipitation averages higher than U.S. averages in the spring and summer months, there's a good chance that if you live in Bettendorf, you could be familiar with a basement or crawl space water problem. With over 25 years of experience in the basement waterproofing industry, MidAmerica Basement Systems is here to provide proven, permanent solutions to your basement and crawl space needs!
Water can enter your basement in a variety of ways. Some common culprits include cracks in your basement walls or floors, leaks around basement windows or from hatchway doors, and failed water heaters or washing machine hoses. Common signs of a basement water problem include:
Wet or damp basement floor or standing water
Leaking or damp basement walls or windows
Crystalline deposits on concrete surfaces
Musty odors, condensation, and humidity
Sump pump issues
To prevent water from damaging your basement, we install an effective interior drain system. The system catches any water entering and drains it to the sump pump. The sump pump fills and then safely removes the water outside of your home and away from the basement. Similarly, to stop crawl space water problems, we completely encapsulate the crawl space, adding a sump pump and energy-efficient dehumidifier. Our systems have a life-time, dry-basement warranty.
If you're concerned about water in your basement or crawl space, schedule a free estimate for our basement waterproofing services and solutions today! We serve homeowners in Bettendorf and areas nearby.
Bettendorf, IA Foundation Repair Specialists & PolyLevel Concrete Lifting Solutions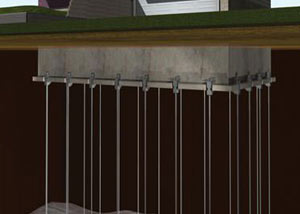 Push piers are one of the many solutions to foundation settlement problems.
Along with our basement waterproofing expertise, our fully trained technicians can also solve foundation repair needs. There are many different signs of foundation problems, from wall and floor cracks to bowing walls, tilting chimneys, and sticking windows and doors. However, most of these problems originate in the instability of the soil around your home.
MidAmerica Basement Systems can make your home safe again by fixing your foundation with a variety of warrantied products. If the entire foundation is settling, we raise it back to a level position with anchor systems and foundation piers. Additionally, if you're experiencing a concrete slab settling issue, we can use the award-winning PolyLevel system – a superior alternative to slab or mudjacking – to efficiently and effectively restore your driveway or walkway.
Radon Removal & Mitigation in Bettendorf, Iowa
Radon is a colorless, odorless gas that is known to cause thousands of cases of lung cancer every year. Radon mitigation needs to be taken seriously and done correctly. MidAmerica Basement Systems can test for radon in your home, properly install the mitigation system, and then test again to make sure the radon levels have dropped.
No matter what problem your home may be facing, from radon to a wet basement or a settling foundation, MidAmerica Basement Systems has the solutions you need for a safer, drier home. We offer free estimates in Bettendorf and cities nearby - schedule yours today!
Basement Finishing & Remodeling in Bettendorf, IA
Waterproofing your basement prevents outside water from coming in but what if a pipe bursts or the water heater leaks inside the home. A newly finished basement done by your average contractor will mold and rot if there is an internal leak. You'll have to tear out your new basement! We fix this issue.
Our Products Include :


Waterproof, washable, insulated walls
Mold-Resistant, No-Sag suspended ceiling
Modular carpet, tile & faux wood flooring




Energy-efficient, double-paned basement windows
Attractive Sunhouse basement window wells
French, bifold, louvre & six-paneled steel doors
Unlike the average Bettendorf contractor we use completely inorganic, waterproof materials. Even if the basement floods your walls and floors will not be damaged by the water. These waterproof products are patented and are built to create an attractive finished basement that lasts a lifetime.