Expert Basement Waterproofing & Crawl Space Repair in Moline, IL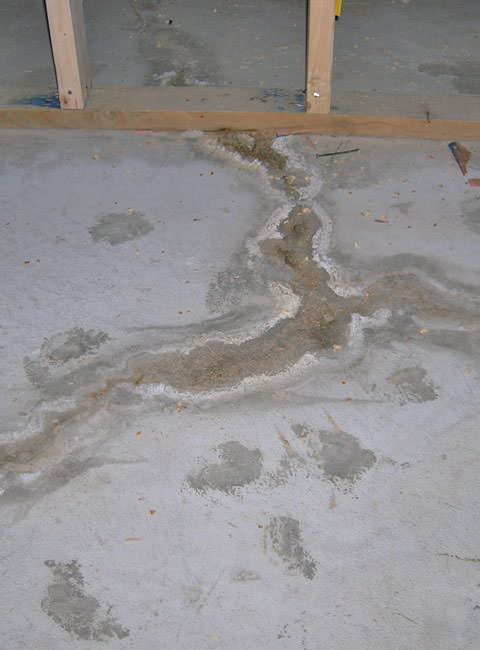 Even a seemingly small amount of water can have a major impact in your basement.
Situated in northern Illinois and along the border with Iowa, Moline is one of the Quad Cities and is known for its sprawling shopping plazas, the iWireless Center, and many other attractions. Moline has a humid continental climate, which means it experiences hot, humid summers with plenty of rain in the warmer months, but also cold winters with higher-than-average snowfall.
All of this precipitation is usually bad news for homeowners who have to deal with wet basements and crawl spaces - which is why MidAmerica Basement Systems has offered basement waterproofing solutions around Moline ever since 1990!
Signs of a basement water problem
Wet or damp basement floor or standing water
Leaking or damp basement walls or windows
Crystalline deposits on concrete surfaces
Musty odors, condensation, and humidity
Sump pump issues
If left untreated, even a small amount of water in your basement or crawl space can lead to mold growth and rot, diminishing your home's structural integrity and promoting unclean air. To safeguard your home against these eventualities, MidAmerica Basement Systems installs an interior drainage system attached to a high-volume sump pump. All water will be safely pumped out and away from your home. Similarly, we can encapsulate your crawl space, sealing the area and installing a sump pump and high-efficiency dehumidifier.
As a member of Basement Systems, we have access to proven basement waterproofing products that come with a lifetime warranty. If you're concerned about the long-term effects of water in your basement, or if you would just like to be able to use or even finish this space, we have the tools to help. Schedule a free estimate with us in or around Moline today!
Moline, IL Solutions for Professional Foundation Repair & Concrete Raising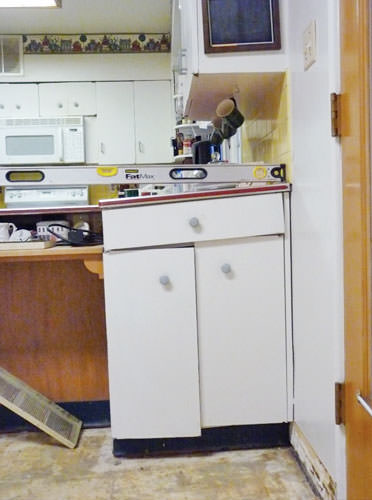 A severely sloping floor is causing chaos in this home.
Moline's precipitation can cause issues for foundations, too. Depending on the types of soil on your property and the amount of soil that was dug up and backfilled when your foundation was being constructed, your home may be subject to problems like foundation settlement. Water can cause unstable soils to shift, exerting pressure on your foundation or allowing it to sink - and these can cause noticeable signs and hazards around your home.
Signs you need foundation repair
Sagging floors and floor cracks
Wall cracks
Bowing walls
Sticking doors and windows
Tilting chimneys
MidAmerica Basement Systems fixes sagging floors, bowing walls, and all of the other problems that come with settling foundations by getting to the root of the issue. For these different problems we have a variety of foundation repair solutions that range from simple support jacks to drilled foundation piers. We work in both residential and commercial projects and provide written warranties for the foundation repair products we use.
If you're experiencing concrete slab sinking or settling, we can also solve this problem using the PolyLevel method. Our experts will drill small holes around the area and inject a lightweight foaming agent which, when it expands, will restore your concrete slab to its level position. This will eradicate unsightly cracks and tripping hazards around your home!
Trusted Radon Mitigation Company in Moline, IL
To protect you and your family from radon gas entering your home, MidAmerica Basement Systems also provides radon testing and installs radon mitigation systems. Radon is a silent killer, causing thousands of US citizens to die of lung cancer every year. Don't let someone in your family become a part of this statistic - get your home tested for radon today!
No matter what basement waterproofing, foundation repair, or radon mitigation services your home needs, MidAmerica Basement Systems has the years of experience and friendly staff you need to get the job done. Contact us today to schedule a free estimate! We serve home and business owners in Moline, IL and areas nearby.
Basement Finishing & Remodeling in Moline, IL
Waterproofing your basement prevents outside water from coming in but what if a pipe bursts or the water heater leaks inside the home. A newly finished basement done by your average contractor will mold and rot if there is an internal leak. You'll have to tear out your new basement! We fix this issue.
Our Products Include :


Waterproof, washable, insulated walls
Mold-Resistant, No-Sag suspended ceiling
Modular carpet, tile & faux wood flooring




Energy-efficient, double-paned basement windows
Attractive Sunhouse basement window wells
French, bifold, louvre & six-paneled steel doors
Unlike the average Moline contractor we use completely inorganic, waterproof materials. Even if the basement floods your walls and floors will not be damaged by the water. These waterproof products are patented and are built to create an attractive finished basement that lasts a lifetime.